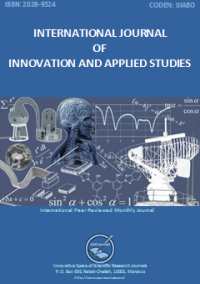 Publish Paper Now. Quick Publishing & Review: All Fields.
Lowest Pub. Fee.

International Journal of Innovation and Applied Studies (IJIAS) acoge con satisfacción la sumisión del autor de contribuciones originales y significativas con respecto a cualquier rama de la Innovación y la Investigación Científica.
Las contribuciones no deben haber sido publicados anteriormente ni estar actualmente bajo consideración para publicación en otra parte.
Todos los artículos de investigación, artículos de revisión, comunicaciones breves y notas técnicas son previamente revisados por el editor, y si procede, se les hace una revisión ciega por pares. El editor pide la opinión de los tres jueces que son expertos en el campo pertinente de la investigación. Hay tres árbitros para cada trabajo presentado, y son requeridos un mínimo de dos revisiones relacionadas con el tema.