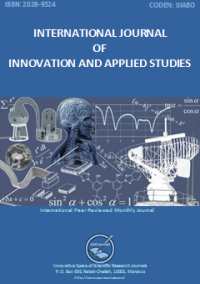 Publish Paper Now. Quick Publishing & Review: All Fields.
Lowest Pub. Fee.

International Journal of Innovation and Applied Studies (IJIAS) est ouverte aux contributions originales et significatives concernant n'importe quelle branche de l'Innovation et de la Recherche Scientifique.
Les articles soumis ne doivent pas avoir été publiés antérieurement, ni être actuellement mis au processus d'évaluation d'une autre revue scientifique.
Tous les articles, communications et notes techniques sont soumis au processus d'évaluation auprès du comité scientifique après un accord préliminaire de la rédaction. L'éditeur demande l'avis de trois arbitres qui sont des experts dans le domaine concerné. Il ya trois arbitres pour chaque document présenté, et un minimum de deux avis favorables est exigé.