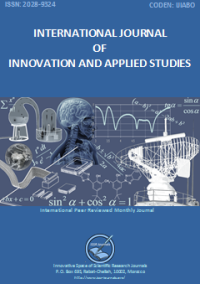 Publish Paper Now. Quick Publishing & Review: All Fields.
Lowest Pub. Fee.



International Journal of Innovation and Applied Studies
IJIAS - January 2024
ISSN: 2028-9324
Vol. 41, No. 3
Other Call for Papers : IJISR (ISSN: 2351-8014) - November 2023
05 December 2023: Paper Submission Deadline
15 December 2023: Acceptance Notification
25 December 2023: Online Publication
International Journal of Innovation and Applied Studies (IJIAS) is a peer reviewed multidisciplinary international journal publishing original and high-quality articles covering a wide range of topics in engineering, science and technology.
The journal welcomes author submission of original and significant contributions. Articles submitted should not have been previously published or be currently under consideration for publication any place else and should report original unpublished research results.
Papers can be written in English, French, Spanish or Arabic.
The acceptance rate of the journal is 75%.
All articles are sent for blind peer review, with a very fast and without delay review procedure (within approximately two weeks of submission).
Submitted papers should strictly follow the format of the sample article.
Submissions are accepted through the online submission system on: http://oass.issr-journals.org/
There will be absolutely no extensions of the submission deadline: 05 December 2023
Publication fee for each accepted article is $80 USD (2130 INR for Indian authors).
Topics suitable for IJIAS include but are not limited to:
Agricultural and Biological Sciences, Arts and Humanities, Biochemistry, Genetics and Molecular Biology, Business, Management and Accounting, Chemical Engineering, Chemistry, Computer Science, Decision Sciences, Dentistry, Earth and Planetary Sciences, Economics, Econometrics and Finance, Energy, Engineering, Environmental Science, Health Professions, Immunology and Microbiology, Materials Science, Mathematics, Medicine, Neuroscience, Nursing, Pharmacology, Toxicology and Pharmaceutics, Physics and Astronomy, Psychology, Social Sciences, Veterinary.